Mad Hunky Meats
A friend of mine, RichTee, is the proprietor of Mad Hunky Meats, located at
www.madhunkymeats.com
.
Rich, who is half-Italian and half-Hungarian (hence the moniker, "Mad Hunky"), was raised in some true, old-world traditions where meats are concerned. This background gave him a unique advantage as he developed an interest in barbecue, smoked meats and charcuterie, providing a well-grounded knowledge base and a unique perspective that stands apart from conventional attitudes toward barbecue while adhering to its roots, which have much in common with "the old country."
Rich has used his extensive knowledge and creativity to develop several specialty products for meats, including dry rubs, brines, meat curing agents and other seasonings. They are made from authentic wholesome ingredients (such as genuine Hungarian paprika) with an absolute minimum (or even absence) of additives and diligent attention to the best quality that he can provide to his valued customers. Doing the math, it's also easy to see that these outstanding products are quite affordable.
Not long ago, Rich generously sent some samples of his poultry brine and his barbecue rub for me to try, and patiently answered my questions about the best way to use them in order to maximise their potential. To be honest, it didn't take much explaining, because both were very user-friendly. Here are some of my experiences:
With the dry rub, I had a really good time. First, let me say this - it is a dry rub for meat, but it can be used for so much more. Most commercial dry rubs are so heavily burdened with salt and sugar that they can only be used as a coating for meat; not so with the Mad Hunky. In his quest for quality, Rich has kept the salt and the sugar to a minimum, so that they do their jobs where the meat is concerned (because some salt and sugar is indeed necessary) without overpowering the real flavour potential that will come from the meat/rub combination. This means that, in addition to using it as a dry rub for meats, you can also use it as a general-purpose seasoning to add some really good dimensions to many of the foods you are eating. Shake some on your popcorn, put it on your baked potato, try some on your eggs, or dust your corn-on-the-cob with it - you're going to love what it does for many of the foods you eat.
Anyway, I used it for one of its primary intended purposes: as a dry rub for meats. Here are some pictures from some of the barbecues I did with it. First, we have some country style ribs:
And some spare ribs: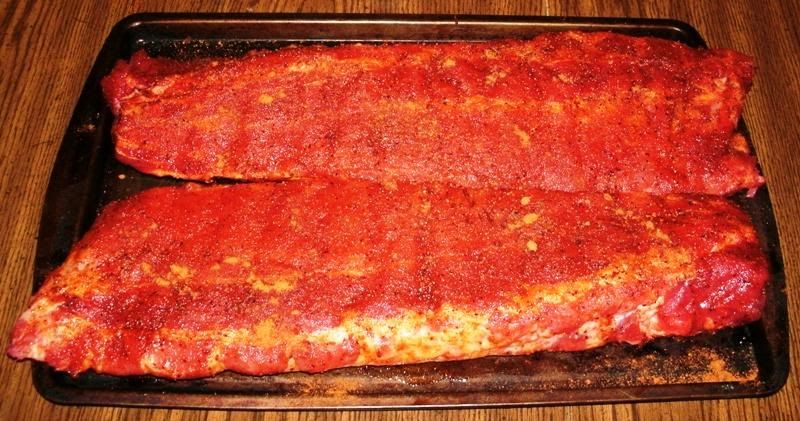 As you can see, I've got them all well-dusted with Mad Hunky rub. One of the great things about this rub is that you can use as little or as much as you like - you can't really over-do it, from what I've seen. By keeping the level of both salt and sugar at a sane level, Rich has made it very difficult to end up with ribs that are too salty or burned black from the carbonisation of sugar. For this test, I put a light dusting on the CSRs and a heavier coating on the spares.
Here are the ribs on the smoker, about to get a nice bath in hickory smoke: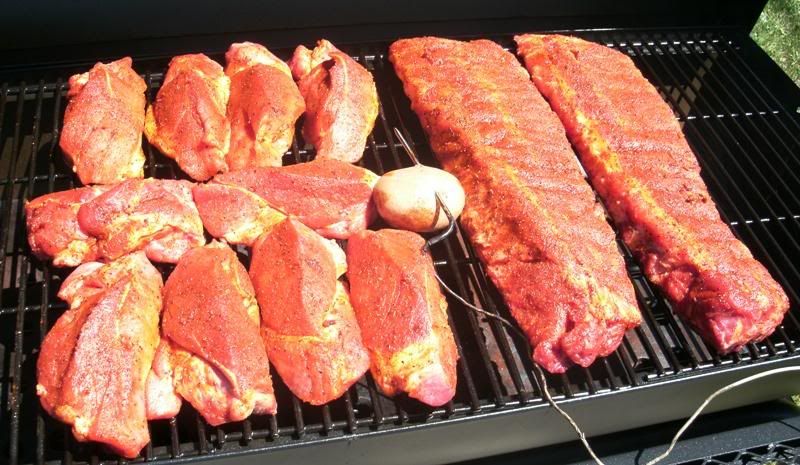 And here they are, almost finished and ready to eat: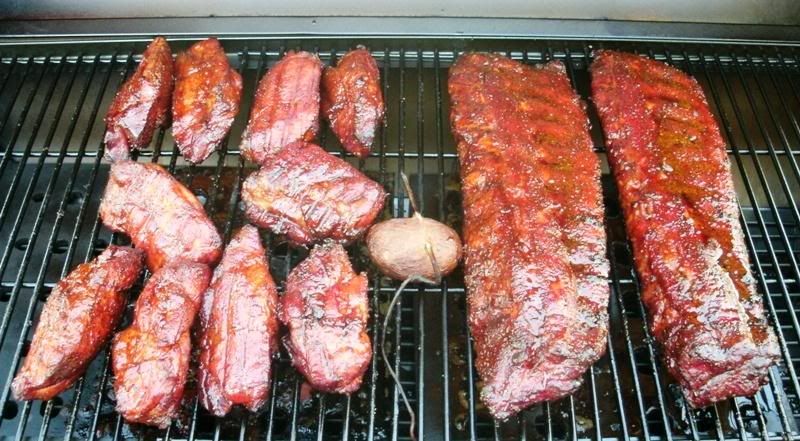 They look pretty good to me - great, in fact - and I was quite impressed with the flavour!
For the next barbecue, I used the rub on a pork shoulder roast, so I could make pulled pork barbecue. My son helped with applying the rub and the photography - I'm not sure if he was being artistic here, or just sloppy: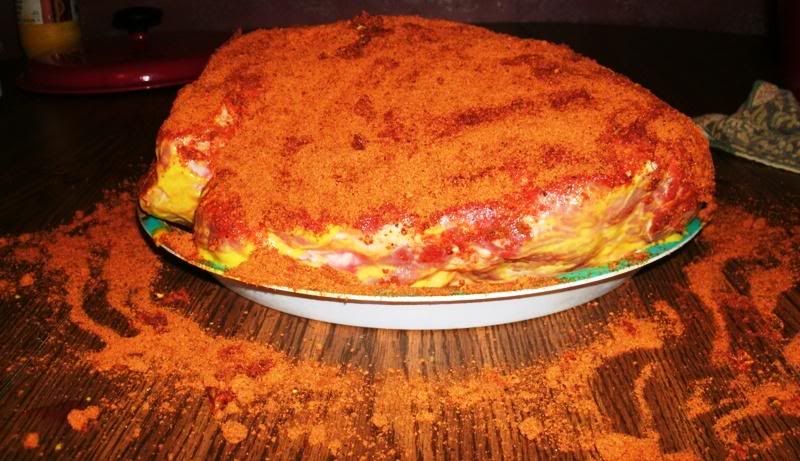 He then put the platter on our printer for the next picture, as if somehow that would be better than the rub-covered table:
After this, we covered the pork and put it in the fridge overnight so it could soak in the Mad Hunky goodness. The next morning I checked it to see if it needed any more rub:
Looked great to me - loving the deep red that the Hungarian paprika provides! So we went straight to the smoker with this.
For some unknown reason, I didn't get anymore pictures after this, but I distinctly remember that this pulled pork tasted absolutely wonderful. The finished, smoked shoulder had a really nice, crispy bark on it, not burned black from all the sugars that you find in most rubs, and not overly salty like heavily-rubbed pork can be. I wanted to give a fair evaluation of the rub, so the only flavours I used were the rub - no finishing sauces or anything like that. I reserved the Hunky-infused juices from the pork, de-fatted them, and mixed them back in to the finished pulled pork. The flavour was as good as it gets!
To sum it up, I used to go to elaborate lengths trying to make my own rub, wasting a lot of time and effort. I also used to spend a lot of money on store-bought rubs that were good, but rather pedestrian in quality and uninspiring in flavour. After trying Mad Hunky, I discovered that Rich has come up with the very authentic barbecue essence I was trying to find. So far, I've tried Mad Hunky Rub on pork ribs, pork shoulder (pulled pork), and beef ribs, and the results have been outstanding every time, working WITH the meat in order to bring out the savory flavours that barbecue enthusiasts enjoy. Rich has taken high-quality, authentic ingredients and - adding a little old-world Hunky magic - has managed to turn out a rub that left everyone craving for more.
I highly recommend it and will continue to use it. Thanks, Rich, for giving me the opportunity to try this!
For the brine review, I had no pictures, but here's how it went down. I tried this on a large batch of 15 chicken leg quarters. After checking with Rich on the recommended amount of brine and water (for this batch, I used 4 ounces of brine and 1 quart of cold water), I brined them overnight. This was an important part of the evaluation, because with most commercial brines, with their heavy salt content, poultry that is brined overnight will have a soft, mushy, unappetising texture. One of Rich's points of pride with this brine is that it is very user-friendly, and that due to its make-up, it is very, very hard to over-brine with it.
I barbecued the leg quarters the next day over hickory in my charcoal smoker. I smoked the chicken "nekkid" without rub or other seasoning, because I wanted a no-BS evaluation of the brine - and I got it!
To use one word, it was outstanding brine, providing just the right moisture and flavour to the finished poultry. I loved the chicken and the juicy, savory flavor bursting from it, which was "just right" in a way that reminded me of Sunday dinner at my grandparents' place in rural North Dakota. There was not a single bit of dryness and, importantly, not a single bit of mushiness from over-brining - if I would have been using a salt-based brine rather than Mad Hunky, the texture would have been soft and unappealing, but thanks to Rich, the texture was just as it should be and juicy as can be.
This was easily the best smoked chicken I've ever made, and that is entirely thanks to Rich's brine, with all the awesome flavours that are in it. I'm not exaggerating when I say that the Mad Hunky has captured the flavours that bring out the best in poultry here! I'm already planning to order some for this year's Thanksgiving turkey.
Regarding both the rub and the brine, please be aware that it is NOT just for barbecue where meats are concerned. You can use the rub or the brine for roasting meat in the oven as well. The rub will provide wonderful, mouth-watering flavour, and the brine will insure that your poultry will never be dry again, even if slightly over-cooked.
Aside from the rub and the brine that I tried, Rich also makes many other products, including a brine for pork, a seasoning for hot wings, a meat curing agent, and almost anything in-between, where meat is concerned. He is also constantly working on developing new products as well. With his commitment to quality and his devotion to his customers, I am very sure that anything he produces is just as good as the products I tried, and I have full confidence that any order placed with him will provide full satisfaction.
Two thumbs up, five stars, and a sincere, heart-felt recommendation - try the Mad Hunky today!