So my girlfriend Jessica and I made it to Halifax's newest temple of haute cuisine,
Gio
on Tuesday night. Just as a bit of background, the Chef, Ray Bear has just returned from a month stage at each of Susur in Toronto and Alinea in Chicago. The restaurant is the flagship of the Prince George Hotel right downtown, and they've spared no expense in making this THE destination for gastronomy in Halifax. They completely gutted and renovated the restaurant, and bought all sorts of new toys for the kitchen like a Paco-Jet, a Vitamix, a vacuum packer, a hamilton beach juicer, some induction burners, a dehydrator- anything and everything a budding molecular gastronomist could wish for.
We arrived at 6:30, and waited around for over an hour for Mark, our friend and chef at Piccolo Mondo restaurant, to show. A few cell phone calls, and it turns out he's cooking! **** chefs and their devotion to their restaurants. Finally, we decided to order an app while we waited. We ordered a nice Spanish Rosé to accompany our appetizers and started out with "Nova Scotia Seafood" which the menu tells us comes with Smoked Salmon, Lobster Claw, Oyster Shooter, Arctic Char, Shrimp and Salmon Roe. It is about one bite each of 10 different preparations of these 6 ingredients.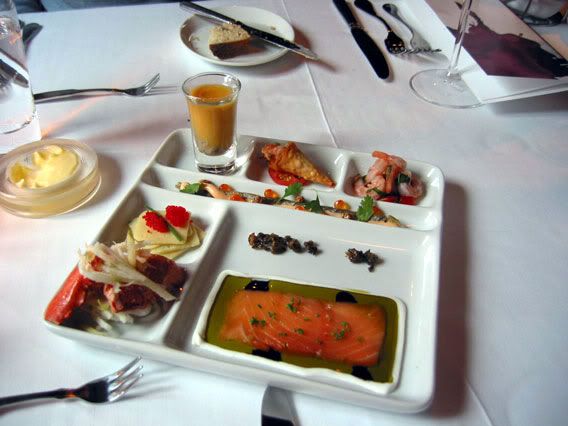 Finally Mark arrives and we order. The amuse bouche arrives- and it is warm jelly of Carrot and Pomegranate- pretending for all the world to be Tempura Sweet Potato- very delicious, and a neat effect to eat a warm agar gelee. Unfortunately, I was so excited to try this, I didn't have the presence of mind to get a picture.
For our second course, we got Lamb Balls, Shrimp Bisque and the chef sent out his Beef Tenderloin.
The tenderloin is astonishing- slivers of tenderloin are wrapped around persimmon, sealed in a Sous Vide bag and cooked slowly at a very carefully controlled temperature. This little roll is perched upon a braised cipolli onion, and accompanied by walnut pudding, raspberries, puffed barley and ... a few other garnishes, I don't quite remember. In any case, a very cool dish.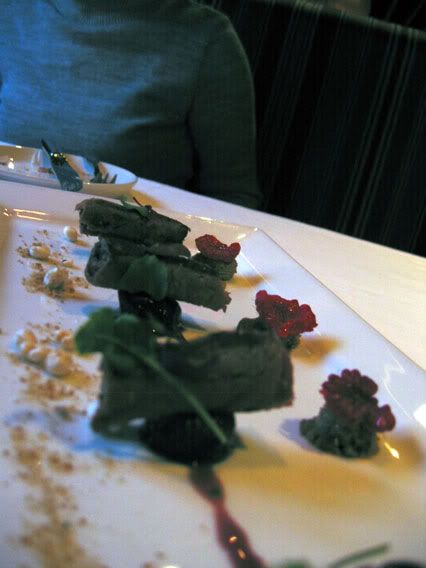 The Lamb Balls are also a feat of engineering, with a chunk of pineapple in the centre, then a delicious bit of pulled, braised lamb around it, then a layer of chevre, and the whole thing is coated in bright green basil panko bread crumbs. This bright green ball is then served perched atop a piece of caramelised pineapple. Check out the picture. As freaky and beautiful as it looks, the taste is pure comfort- the gorgeous, slow cooked succulence of braised lamb.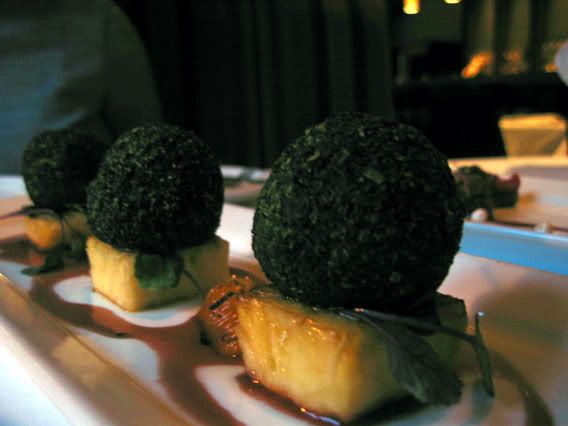 For our third course, I had tuna rolls, Jeska got a Susur-inspired salad that they call "1725 Salad" At this point, we had them serve a beautiful bottle of Italian red, a 1998 Pio Cesare.
The tuna rolls are probably the coolest looking dish we are served until dessert. They are wrapped in rice paper, but with raw tuna and wasabi, I was definitely thinking sushi. Check out the picture. The dots on the plate are Avocado Aioli, and there is tomato powder, and .. I can't even remember what else, but believe me they taste every bit as good as they look.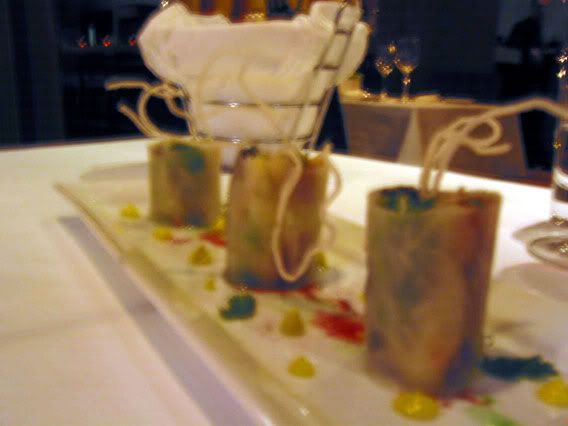 The chef had intended to list the 1725 salad as having "too many ingredients to list". They finally made him list a bunch, so he does, but when he says "petals, seeds and seedlings" you have to realise that that's about ten ingredients right there. Anyway, very beautiful salad.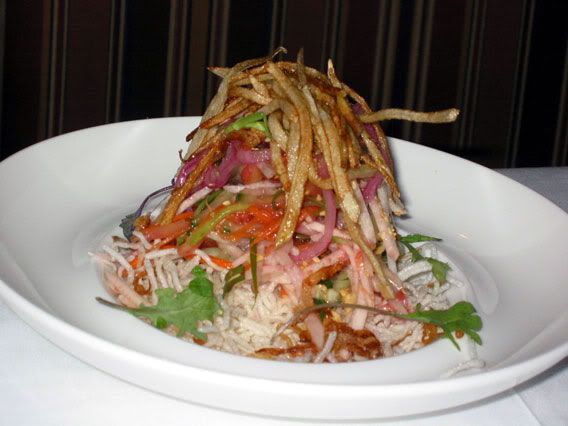 With these, the chef sent out his spring roll wrapped shrimp, which are served with spicy mayo and Yuzu dust. I asked him how he did the dust, and he told me that they make a sabayon with the juice, and then put that sabayon in the dehydrator. Muahaha, so awesome. Unfortunately I didn't get a very good picture of this dish.
For main course, i got the Scallops with Oxtail ravioli, Jeska got the Kobe beef and mark had a 1725 salad.
The scallops with Oxtail ravioli come served with an incredible veal jus, confit golden beets and sauteed apples, beautiful local organic new carrots and some nice pea shoots. Ooh, and when they bring it out, they come to your table with a great big chunk of pink himalayan rock salt which they grate over your scallops. Fun!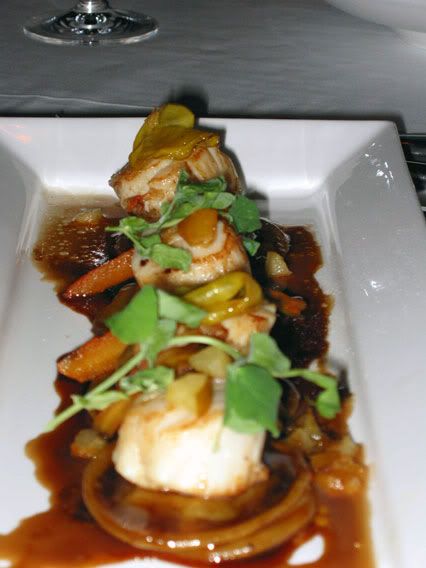 The Kobe beef is served with peas topped with "Truffle froth" Oh baby. I can't remember what all the rest of the sauces, etc were on that plate. The menu lists Smoked Onion Jus and Carrot puree a well as the peas and truffle froth, and apparantly those are "fondant potatoes"
As our lovely server brought out our desserts, I discovered that my battery had died on the camera, so no pics of dessert :(
We ordered the "Sandwich" and um... a different dessert which turned out to be a collection of 3 or 4 different delicious chocolate preparations, including a chocolate shake in a tall shooter glass (with two bendy straws for Jeska and I), some triangle thingis with semifreddo and some sort of nougat, and a moelleux au chocolat in an almost cube shaped dish. The sandwich was really my only disappointment for the night- it LOOKS like wonderbread- nope, it's coconut. :P I hate coconut desserts. Oh well....
All in all, we spent 4 hours, just under $300 CAD, drank some nice wine, and got to feel like we were in a real city. I hope that this place is the talk of the town in short order.