Made yesterday... qahtan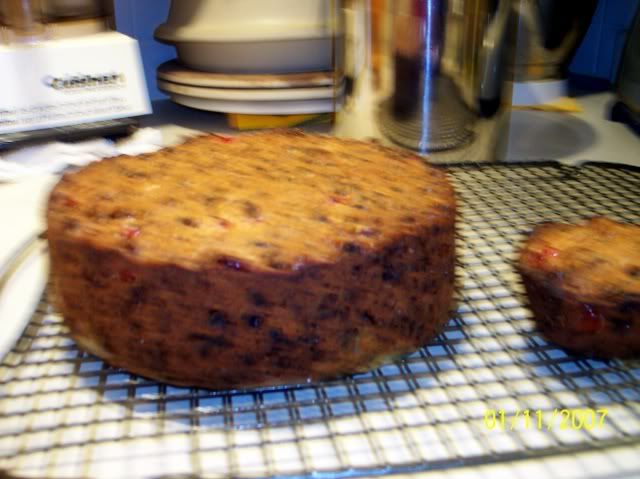 Posted - 11/03/2007 : 1:23:20 PM
--------------------------------------------------------------------------------
READ RECIPE BEFORE MAKING, LOOKS LIKE A LOT OF WORK BUT ONCE YOU HAVE READ THROUGH YOU WILL SEE IT IS QUITE EASY.
This cake has been made in my house since before I came to Canada. that was in 1965. :-)))
This is a very nice cake made just to the recipe. It's not too rich.
NEW ZEALAND BUTTER CAKE
Read recipe and method first. Remember the cake is only as good as what goes in it, meaning butter is good, margarine makes the flavour yucky. As with all cakes every thing must be at room temperature. It's best that this cake has the butter and sugar creamed so well that the sugar almost dissolves into the butter, and the rest of the procedure is by hand only.
Oven temp 300', well line an 8 inch cake pan with buttered paper, bottom and sides.
10 oz butter, I use salted, as there is no added salt to recipe
5 oz soft brown sugar
5 oz white sugar
5 eggs
12 oz all purpose flour
8 oz each, currants, dark raisins, light raisins, chopped walnuts, glaze cherries, all red or red and green,
1 tsp powdered mace.
Method:
Sift mace into flour, mix all the fruits and walnuts together.
As I said above, cream butter and sugar well, add eggs one at a time and beat in well by hand, after egg 3, add a little of the four to stop any curdling, continue to add other 2 eggs, with a little more of the flour if needed.
Stir in remaining flour, and the fruits, and spoon mixture into baking pan. Cook for 2 hours, then carefully open oven door, place a roasting pan below cake, close door, boil kettle water, carefully open oven again and pour some of the boiling water into roasting pan, about 1-1/2 inches will do, this has to be done fairly fast and carefully, so that the cake doesn't know what you are doing, is the best way to describe it, cook another 1-1/2 hours. Cool in pan. Place tin foil on top of pan while cake is still hot, hot, and try and seal it to pan, so that the steam goes back into cake.
Leave to cool completely, then remove cake from pan, wrap, and save, Do not put in freezer.
The cake needs to mature, and cannot do this in the freezer.
This is called as you can see New Zealand butter cake, as that was the butter that was first used for it.
The cake I made this year as per picture, I added apricots that I chopped up in the Cuisinart and some dates....
The cake as shown is a 9 inch loose bottom,,, plus as you can see a small taster. If you want alcohol in it add it later, when the cake has cooled completely. With a tooth pick poke holes in the bottom of the cake and pour on some brandy/rum your choice. Wrap the cake in kitchen parchment, NEVER FOIL, place wrapped in plastic container if you have one...
If the cake is made exactly as recipe, butter etc it will keep a long time..... qahtan