My experience is all culinary and I've never really baked. But this semester I tried a baking and pastry course for no other reason than to just learn about it. I thought the semester was a disaster but somehow I managed a B in the class. Of all the things I did in the last few months, baking cakes came the easiest to me.
So I've decided to bake a cake (from the box and the icing is store bought as well) and decorate it. The purpose was to see what it was like to work with icing and such. I thought it would be somewhat easy even though I knew there would be a certain touch required for it.
So here is my first attempt at it. It's a 6 inch strawberry cake. It is split in half. It is built this way: Bottom layer, pureed strawberries allowed to soak in, chocolate ganache, sliced strawberry, chocolate ganache then the top half of the cake.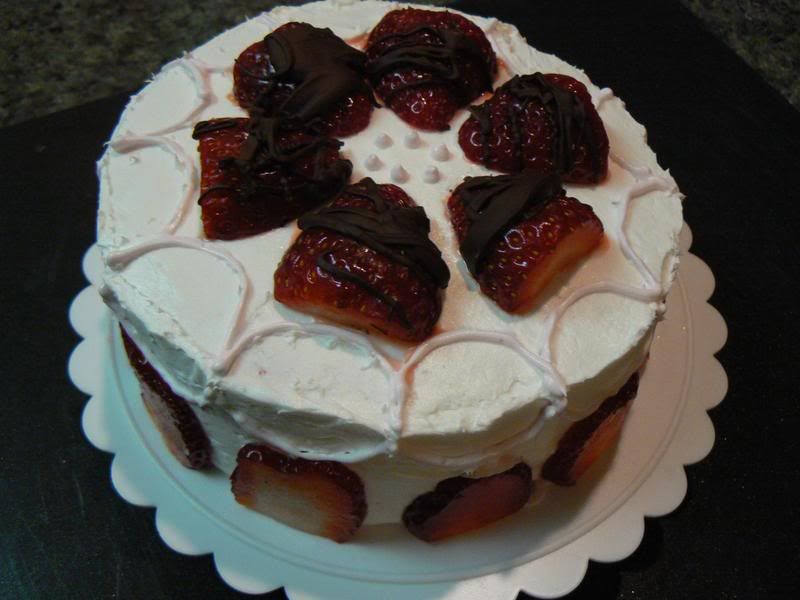 As I said earlier, this was a practice for myself to see what it was like to work with. I gave it to my neighbors so I have no idea what it's like to eat but will hear back in a few days.
I do have a few questions though. The cake sat for a few hours before I got it to them and in that time, the strawberries on top bled out and stained the icing. Is there a way to prevent this?
I did a crumb coat on the cake and put it back in the fridge to harden a bit so that I could do the other layer crumb free. Yet I still had the sides filling up with crumbs. Where did I go wrong? Is it technique?
Obviously practice work with icing will help out in making a smoother coat on the outside. One doesn't have to look closely to see mine isn't that smooth. How do I properly practice this stuff? It's said that practice makes perfect. But I believe that if you practice making crap, you'll still end up with crap.
I'm making another practice cake later this week. It's going to be a challenge because it will be aimed at diabetics.
Hopefully that one will be looking a bit better.
Thanks.
Finally following my heart to do what I love.
1 ACF Bronze
Finally following my heart to do what I love.
1 ACF Bronze