Buenos noches, Cheftalkers. The forum is again telling me I haven't posted in a while, so I've decided to take up some bandwidth, or whatever it is the kids are calling it these days. The owners of a well known and well thought of local supper club recently opened a new Mexican restaurant near my home. The name of the restaurant is Haute Taco. I know, I know, but you can imagine the idea behind it I'm sure. Anywhooo, last week I was feeling pretty haute, and informed mi espousa and mi hija they were feeling pretty haute, too.
While there I had duck, pork, and short rib tacos. While not horrible, they were at best inspiring only in the sense I left the establishment vowing to make superior short rib tacos with the same short ribs I had posted about several months back, when the brutal Cheeseland winter demanded comfort food to assure our very survival.
Thursday I swung into Costco and picked up a six pound pack of boneless short ribs. They were nicely marbled. Last night I browned them, braised them for about two hours in chicken broth, then refrigerated them over night to facilitate fat removal. This morning, I made a trip to the Mexican market for guajillo and morita chiles, Mexican chocolate, anejo cheese, cilantro, garlic, limes, crema, and white corn tortillas. Early afternoon, my friend Shawn arrived and we went to work.
First we split and seeded about 30 guajillos and 10 moritas. We then toasted then briefly on each side by pressing them down in heated non-stick skillets. The aroma and color of the toasted chiles made me as giddy as a little girl. Skin on garlic was patiently roasting in a dry neighboring skillet, adding its allure to the heady atmosphere. Here's a a couple pics of them waiting patiently for hydration, and then soaking happily. Note the color after toasting.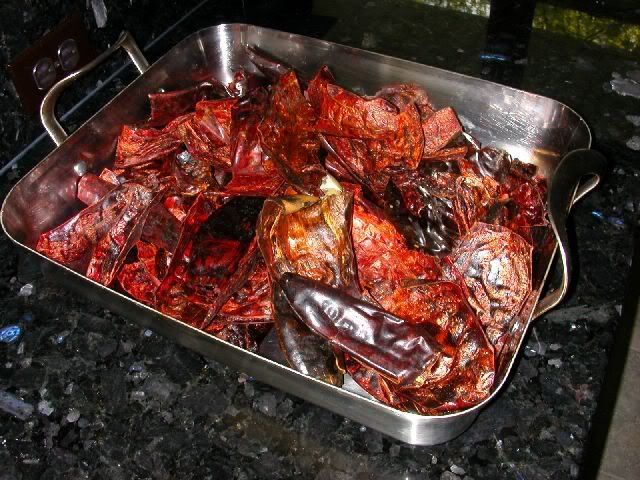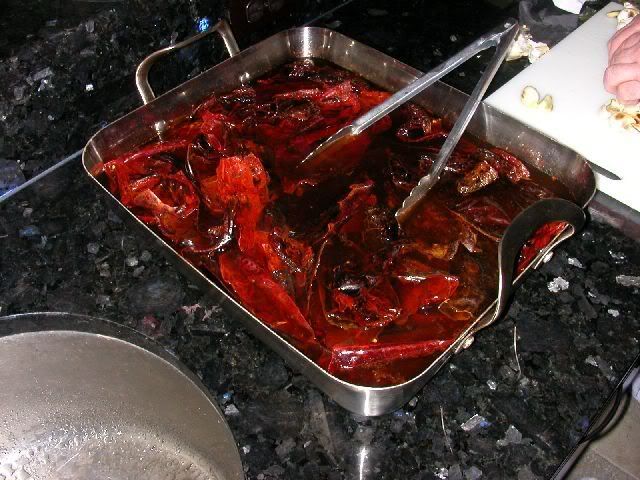 After 30 minutes of soaking, the liquid was poured off and the chiles were pureed with 12 cloves of the now made naked garlic, spices, and a couple cups of chicken broth. After pureeing, the mixture was run through a chinois to remove the chile skins. The result is a smooth, thick, dark red/brown liquid. This was added all at once to a medium high heat Le Creuset dutch oven coated generously with olive oil (I forgot to buy lard). The smell and sizzle were quite exhilarating. Stirred constantly with a rubber spatula for about ten minutes, it reduced to a rich, dark, red paste. Doesn't it look happy frying?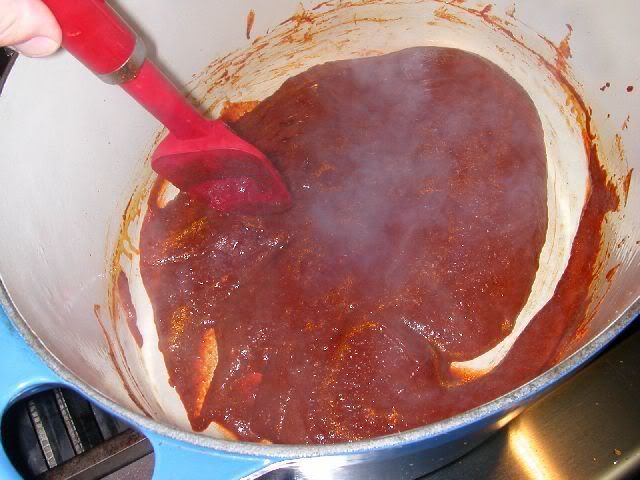 When the paste looked perfect, we added about four cups of chicken broth, three teaspoons of sugar, and a little finely grated Mexican chocolate. A little simmering, and the short ribs entered the zesty hot tub. Into the oven at 325 F for two more hours. When the pan was pulled and top removed, I swear I heard a faint murmur of Spanish.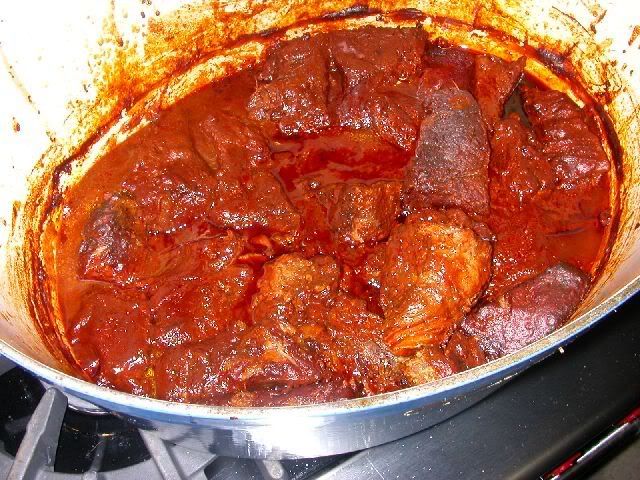 The meat and sauce were not so spicy that a burning lingered in the mouth. There was an earthy back of the throat heat, as well as a slight bitterness that was not unpleasant. The sugar did not impart true sweetness, but you could tell it and the chocolate were there. The ribs were cooked long enough to be very tender, but they did not disintegrate when gently tong handled. To assemble for consumption, a partially shredded short rib was placed on a warm white corn tortilla, coated with sauce, dressed with crema, anejo cheese, sliced avocado, roasted rajas poblanos, cilantro, and a squirt of zesty lime. Aye Caramba! Muy Bueno! Haute's got nothing on these.
I hope I didn't overdo it with the pics, but Shawn and I had a fun day putting these together, and I felt like showing how they turned out. In full disclosure, the frying, straining, and toasting, are all techniques out of a Rick Bayless cookbook.
Kevin