Getting your money's worth in our nation's capitol. The wife, daughter, and I got back Tuesday night from a five day trip to Washington, DC. While I've been known to spend time on the Internet Machine being a nuisance on a variety of forums, my wife typically uses the Google to plan vacations. Since she is married to a robust fellow with a robust appetite, she well knows the importance of quality eating at an affordable price. In other words, she tries to maximize our return on investment.
We are self employed real estate appraisers, so not only does time away from the office essentially double the cost of any vacation, but the current mortgage meltdown has slowed business more than just a tad. Consequently, we don't mind doing some spending, but we prefer a little something in return. She outdid herself this time. In between museum visits and two days at the 42nd Annual FolkLife festival, we Metroed our way around the DC area enjoying a number of wonderful meals. There were a few clunkers, but the good were so good, they remain as only faint memories.
We began our vacation with a lunch of Peruvian Chicken at EL Pollo Rico, in Arlington, VA. The chicken offered in this little side street gem is rotisseried over a bed of charcoal, and puts the ucculent in succulent. There is a slight taste of citrus, and the not quite crispy skin is heavily but not harshly seasoned. Cumin, oregano, garlic, onion? I couldn't say for sure, as the marination and seasoning of Peruvian Chicken is as mysterious to me as lost Inca gold. Three half chickens, two cole slaw, one order of fries, three Inca Golden Colas, and a strawberry ice cream for my eleven year old sweetheart, a few minutes washing the succulentness from my hands, $38.00.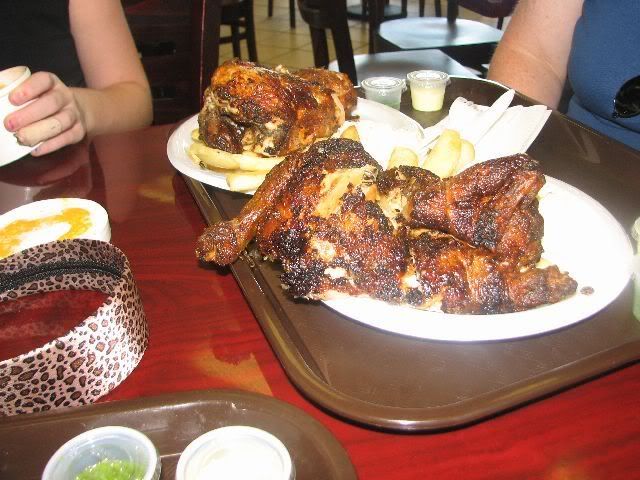 We ate brisket and and beef sausages for dinner that evening at the Texas section of the FolkLife Festival. The food was uninspiring, but the music by Joe Ely, Lloyd Maines, Joel Guzman, and Terri Hendricks was more than inspiring, especially after three evacuations of the show tent due to thunderstorms.
The next morning found us standing in line for breakfast at Market Lunch in the Eastern Market. Market Lunch is the type of place that is so fun, you'd eat there even if the food was a bit disappointing. Since it is decidedly not disappointing, we ate there twice. Standing in line and shuffling forward next to the long wooden table that is the only seating for Market Lunch is entertainment in and of itself. Always drawing closer, slow and steady, is the cash register where you place your order. The register is manned by the owner, Tom Glascow, who takes each order himself, handling all the money, shouting the orders to the frenzy of short order cooks behind him, all the while smiling, laughing, and conversing just long enough with each customer so by the time they receive their food, seating has invariably opened at the wooden table. To your right is a fresh fish counter filled with a plethora of fresh oceany goodness. Whole fish that one doesn't see available anywhere in Cheeseland. The market itself also has a butcher shop, deli, produce market and more. Outside on the street is a farmers market/flea market that operates every weekend. I, however, digress.
When we slid around the corner of that wooden table filled with serious eaters, I stepped in front of Mr. Glascow, told him it was our first visit, but I thought I had the ordering system down. He told me "go for it, I'll decide if you know what you're doing." In the name of science, anytime I see a menu overcrowded with highly appealing fare, I feel it is my duty to over order as missing something is not an option. After all, I'm from out of town and may not return for some time. We ordered the Blue Bucks, Market Lunch's famous buckwheat blueberry pancakes for my wife and daughter. Next were two Bricks, their famous breakfast sandwiches; egg, sausage, cheese, and potatoes on a soft roll. To round out this beyond hearty breakfast was a crab cake Benedict. Mr. Glascow applauded my well thought out, if overly bulky, order, and asked from where we hailed. When we told him Wisconsin, he promptly offered us the Russ Feingold discount, taking our order down to $40.00 from $40.11. We then shuffled forward, as the line at Market Lunch never really stops.
The gals loved the pancakes, which were fluffy, blue, berryful, and very hot. When do you ever get hot pancakes in a restaurant? Benedictine purists may sniff at a crab cake, fried egg, and almost puckerish Hollandaise on a half soft roll, but when my fork sliced through the sauce and egg, and then into the slightly crispy outside and creamy interior of mustard, pepper, and chunky crab of that cake, I think I whimpered. When I took my first bite, I know I whimpered. Honestly the best crab cake I've ever eaten, and it was prepared at a carnival of a lunch counter. The next day we came back for lunch and were heartily greeted by Mr. Glascow. My wife had a crab cake sandwich, I had a soft shell crab platter, the daughter went for the chicken sandwich, and we tossed in a whiting sandwich as an afterthought. A light crunchy batter encased the crab and whiting and neither disappointed. Two whiting fillets placed a top one soft roll was almost comical in its generosity. Our pictures from Market Lunch consist solely of the menu board and the underside of one lonely soft shell crab. What can I say? We dug in before we remembered to photograph.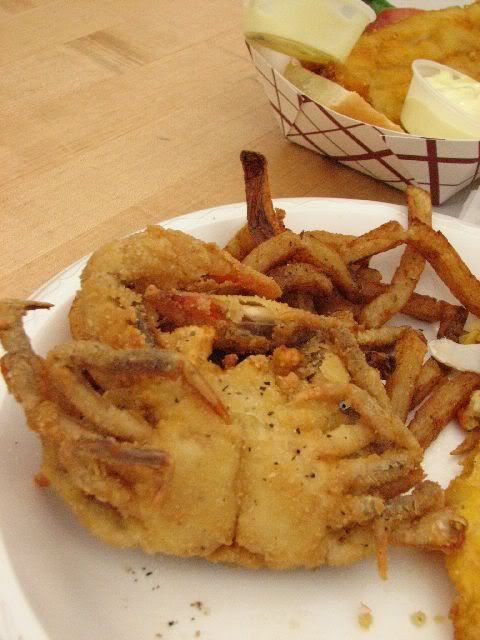 That evening after the breakfast we took an expensive cab ride to a restaurant in a somewhat questionable neighborhood for what turned out to be a questionable and expensive meal at a restaurant we found out was closing the next day. The expensive cab ride out of there compounded the problem. We'll let that become faded.
The evening after the Market Lunch lunch, we traveled back to the same neighborhood for a Salvadoran dinner. At Las Placitas we encountered a bit of a language barrier, and ended up with more food that we thought we had ordered. We had tried to order papusas which are thick handmade flour tortillas stuffed with shredded pork and white melting cheese. We thought the waiter had said they were out of this particular dish which was particularly disheartening as they were the reason we had come, but not being quitters, we ordered a scallop and shrimp chimichanga for me, a shrimp in cherry wine and garlic butter appetizer, and carnitas that were not pork, but rather strips of crispy beef, for my wife. A beef burrito basically plain for my little girl. Aye carumba! When the food came, not only were there two papusas the size of Blue Buck pancakes, but also a double order of the "carnitas". Lots of head nodding and smiling at our confusion, and the server went on his way. Everything here was excellent. The shrimp appetizer slightly sweet and faintly touched with garlic. The chimichanga packed with shrimp and scallops, fried just short of crispy, and oozing with a slightly spicy crema type sauce when opened. The beef crispy yet tender. Handmade flour tortillas were so fresh from the griddle they could not be immediately handled. My daughter, the dessert eater in the family, order sopaipillas. The server told us, with much nodding and smiling, they were on the house. Total bill $66.00 plus a generous tip. Sadly we ate without taking pictures.
As I must be pushing the limits for the length of a ChefTalk post, I will finish my rambling meal descriptions with our Monday afternoon happy hour visit to Old Ebbitt Grill. It bills itself as the longest running saloon in DC. Lots of wood and architectural detail, several ornate bars, wall murals, and historic paintings of the City adorn its walls. The beauty of the interior was a bonus to the happy hour hour special. Half off on everything on the raw bar menu.
I may have mentioned this here before, but I like shellfish. A lot. My wife less so. My daughter not at all. We ordered what turned out to be a pile of calamari the size of a cantaloupe, (no tentacles, what's that about?), fish and chips for the sweetheart, and for my wife and me, okay mostly for me, the Orca Platter. 12 raw oysters (I went with those from Maine and Prince Edward Island), 12 raw little neck clams, twelve jumbo shrimp (10-12 per pound is my guess), 12 Jonah crab claws, a one pound steamed lobster, tangy horseradish cocktail and Minionette sauces, and a garlic mayonnaise for dipping. My wife contributed to the shrimp and claws consumption. During happy hour this $95.00 platter goes for $42.50. Was it good? Decide from the before and after pictures. The evidence is there for the world to see.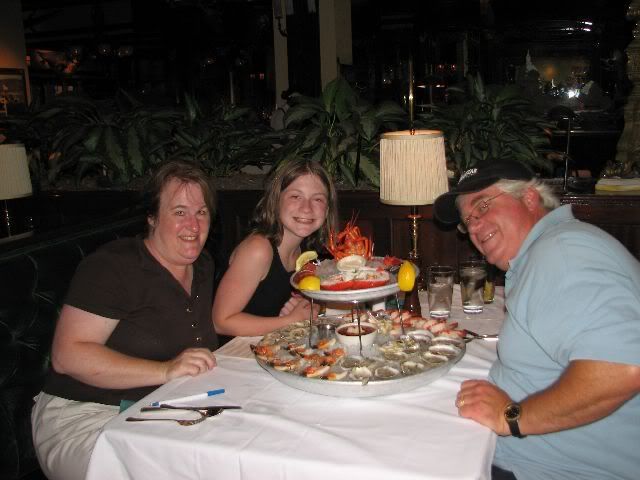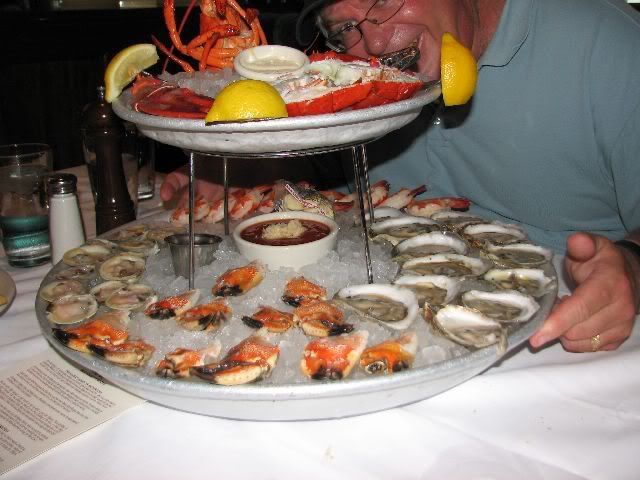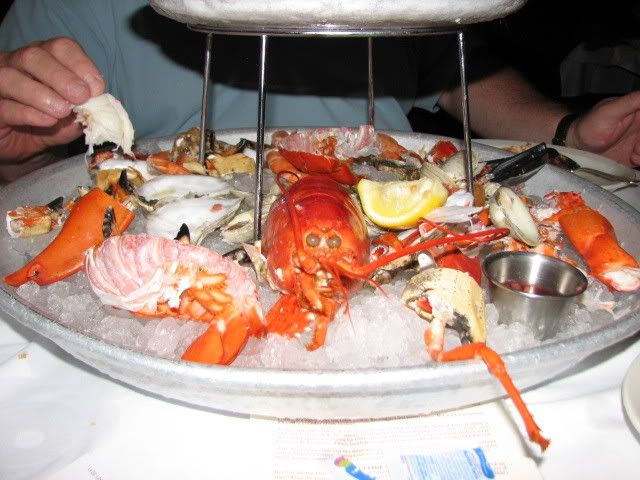 This was our second visit to the Washington, DC area. We visited the City last August, and stuck to a pretty tight schedule of museums, tours, and various sightseeing adventures. This visit was much more relaxed. We spent two days at the FolkLife festival, one seeing the Texas musicians, the other learning about the Himalayan country of Bhutan and celebrating the 50th anniversary of NASA. Really cool and interesting both days. We shopped some, toured the Postal Museum, and most profoundly spent a good part one day at the Holocaust Museum. In my opinion, a visit to this museum should be mandatory, as seeing the starkness of what that type of hate can accomplish cannot but affect anyone that even partially pays attention. Before leaving the museum we sat in a small auditorium area and viewed personal accounts from survivors. There are several testimonies about the loss of children that make William Styron's
Sophie's Choice
read like a light mystery. WOW. I believe my eleven year old daughter, who has had some exposure to The Holocaust in school,
Hannah's Suitcase
and
The Diary of Anne Frank
, was touched and disturbed. I am glad we took her.
Kevin
Saturday is the Big BBQ.