What is Zha Jiang Mian
Zha Jiang Mian means Fried Sauce Noodles. While that could mean most anything it is usually attached to a noodle dish from Northern China of meat cooked with a bean sauce (which one can vary some) that became popular and has variations across China and into Japan and Korea.
Most versions congregate around fermented soybean sauce (Yellow Soybean Sauce is more traditional) and sweet bean sauce, usually close to a 2::1 ratio. Sweet bean sauce in this case means tianmianjiang and is made from flour, not beans. There will be some more discussion of this in the ingredients section. Generally some aromatics are added and fresh vegetable garnishes.
But consider.
Zhá Jiàng Miàn (Savory Noodle Sauce) - Chinese Foody
says
Every Chinese family has its own way to prepare it, but they all use some kind of soybean paste as the base of the sauce. In traditional Beijing cuisine, the yellow paste (yellow soybean paste) is used while in different parts of China use other soybean pastes such as sweet bean paste, Hoisin sauce or even hot bean paste. It does not matter which sauce is used...
Barbara Tropp describes it in passing in setting up Hunan Noodles with Spicy Meat Sauce
Barbara Tropp, The Modern Art of Chinese Cooking, 1982
Noodles slatherd with hearty sacues concocted from minced pork, bean pastes and sometimes hoisin sauce are common in north China.
Is she talking about just one such kind of noodle or a broad swath of noodle dishes?
Mike Chen used doubanjiang in his video recipe which is not common. I think it can work.
It's origin is lost to history, but generally agreed to be from the Shandong region. Its rise to popularity is said to stem from the move of the royal court (Quing Dynasty period) after their loss to the Eight Nation Alliance. The Empress Cixi was fond of the dish and brought a chef to cook it in their new home.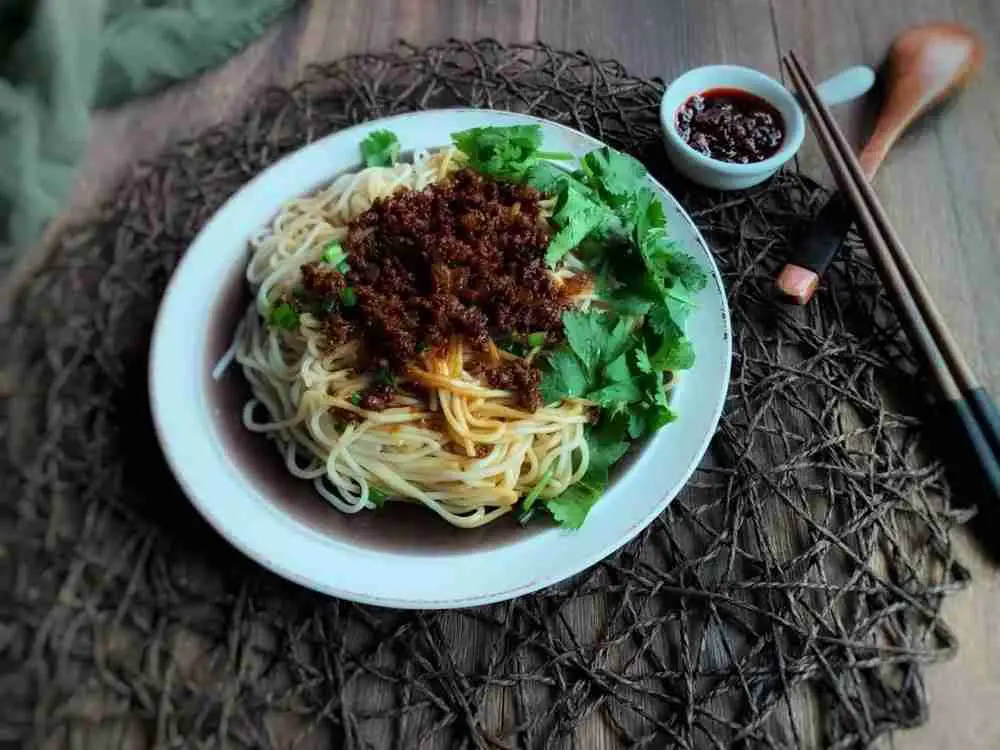 One of the most important parts of the culture in China is the Chinese Cuisine, which possesses unique features and comes in numerous styles. Among the most famous dishes in China is Zhajiangmian, which we

sonofchina.com
Zha Jiang Mian
These two sources seem to quote each other in a sort of plagiaristic way, Maybe they both used the same printed source or something. I'll be referring to the sonofchina link again.
As the dish moved through China due to its simplicity and popularity, it picked up some regional variations, like using fermented bean sauce. If you read up on this a common food metaphor is to compare it to spaghetti bolognese or macaroni and cheese. The spaghetti seems to be the popular comparison with the lumpy meaty sauce of concentrated glutamates. tomatoes for spaghetti, fermented beans for zha jiang.
sonofchina.com offers a regional variation table, as does the wikipedia entry on the topic.
I want to point out three regional variants. The first two illustrate the most common types, the third how it can get confusing.
Shandong, the originator uses just the tianmianjiang.
Beijing combines the bean sauce with the tianmianjiang
Sichuan may have a fork of the dish in two different directions. One using la doubanjiang for the bean sauce and another called zajiangmian that is more commonly only with tianmianjiang and some added spices. The food history is not clear on the actual source of these variations if they are actually variations. I've seen the zajiangmian referred to as a soup noodle, but when I see actual recipes, it doesn't seem to be. So I'm confused a bit on what is going on in Sichuan. I think the Shandong using only tianmianjiang and most of the zajiang recipes I saw also only using tianminajiang makes me think they could be related. But that's not actual evidence, just a seeming correlation. Carolyn Phillips offers a different take on what zajiangmian might mean in her vegetarian eggplant version shown later.
And it's popularity took it to Japan as jajamen and Korea as jajangmeon but a little more about those variants at the end.
So it's not just one specific thing, but usually simple and bold in flavor.